Welcome to our newest ERA team member, Anasita Bowen.  
Anasita Bowen has joined our team as our new Resourcing Consultant and will be in charge of engaging, recruiting and managing our candidates. Anasita brings with her over 2 years experience in the recruitment sector and we are delighted she has joined our happy team .
We look forward to developing our ethical approach and expanding our services across NEL with a great team at ERA.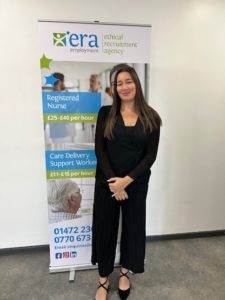 Anasita Bowen – ERA Resourcing Consultant
"I studied Law at Manchester University and relocated back to Grimsby during the pandemic. In this time, I took an opportunity within recruitment and quickly found that I really enjoyed supporting people to find the right opportunity and providing excellent service to clients. I decided to join ERA as I love the ethos and the fact we are committed to serving the local community.
I'm most proud of completing my degree and buying my first house last year! I am also really proud that I've been able to support so many people with long term employment opportunities.
In my spare time I regularly attend fitness classes on Cleethorpes beach. I love to travel and experience new cultures, Barcelona is my favourite city so far! I'm also keen to support various charities and recently raised over £500 for refugee support." 
Meet the rest of our award winning team here at ERA Employment and learn the faces behind our Ethical Ethos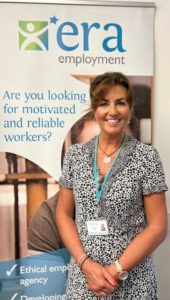 Rachel Button – ERA Manager 
I have worked in customer service and with people since I was 14.
My passion is delivering an excellent service in whatever I do.
My main skills are in developing people and building quality partnerships. I thrive on organisation and creativity. I love working at Centre4 and aim to create a happy and motivated team in ERA. Recruitment is a challenging, fast moving sector – but very rewarding.
In my spare time I love to travel. "Work hard, play hard" is my ethos.  I also love to spend quality time with my family, friends and my dog Mojo. I've just started golf lessons as a hobby for my future retirement.
The thing I'm most proud of other than my family, is pushing myself to achieve my foundation degree at the age of 50 – you're never too old to learn .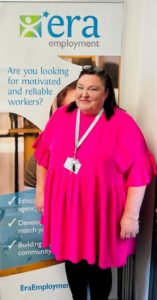 Debbie Neary –  ERA Recruitment Consultant 
Having left school and going to college to study business (specialising in HR), I went to Manpower for work experience and they later employed me as a Branch Administrator.  Manpower was a fast paced recruitment agency.  I loved the challenges it brought and every day was different. I then moved on to become an Industrial Recruitment Consultant for Securicor.
I later moved to Leeds and was a regional Sales Recruitment Consultant, I gained an onsite managed contract in West Yorkshire and secured a year's contract for the company prior to me leaving to move to London. In London I went into specialist Recruitment and very much enjoyed placing Psychiatry Locum Doctors and Social Workers throughout the UK.  I went on to become an Associate Director and shareholder and managed teams of recruiters.
After 7 successful years of my Recruitment career in London I had my beautiful daughter who has additional needs and decided that the fast pace of recruitment and what my daughter needed would not mix!  So I focused on being a Mum and took a 10 year plus carer gap.  During my career gap I took on various voluntary work and training, I ran a communication group for babies and toddler with Down Syndrome at a local Children's Centre.  I also attending training to re skill at this Children Centre, where I met my now Manager Rachel Button.
In my free time I really enjoy going to Whitby with my husband and daughter to our little caravan.  We love to travel and go back to London to visit friends. I enjoy eating out and socialising and generally having fun and laughing, as life is simply too short not to!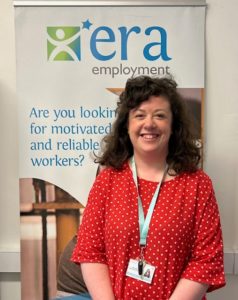 Mary Mumby –  ERA Recruitment Assistant 
Having previously worked in the Civil Service and Local Council – I got taken on by ERA in April 2023 as a Recruitment Assistant. I am very methodical and detail orientated in my approach to work. ERA allows me to utilise my strengths undertaking the compliance and administration tasks which I thoroughly enjoy along with the fast paced and varied nature of the role.
In my spare time I enjoy going for Spa Treatments, anything skincare & perfume related and going to concerts as well as spending time with my family, friends and my Siamese cats.
The thing I am most proud of is by the age of 18 I had passed all my LAMDA Speech & Drama exams – something I had been working towards from the age of 4! It was very rewarding to have fully completed my exams and for it to become a field I could pursue. I am also very proud that I achieved my black belt in Shotokan Karate at the age of 14 after a lot of hard work and dedication.